The combined audiences in Google Ads have provided a fresh and innovative air for SEM campaigns. Thanks to them, you can combine different types of segmentation to show ads to potential customers .
Do you want to know its ins and outs? Take note of these valuable tips to create and implement audiences for your projects and make Google Ads another tool that helps you improve customer engagement .
What are combined audiences in Google Ads
Google Ads audiences allow you to create different audiences for your ads . The technique consists of combining various segmentation elements: age, sex, place of residence, affinities or purchase intention, among many others.
Now, advertising companies can specify that their ads are only shown to people who are in two or more specific audiences.
When working with audiences, it is common to use the directives OR, NO or AND. The first two served to direct or exclude large audiences in a campaign, something that has evolved with AND. The new paradigm facilitates the combinations of existing audiences in the market.
In search campaigns, this preference overlaps with the selected campaign keywords. Users who meet the criteria set in the combined audiences who search for the specified keywords are the only ones who will see the ads.
Of course, to squeeze the full potential of the mixed audience it is vital to make a  complete and effective Buyer Persona . Having this concept properly studied will allow you to create more productive audiences.
Why should you use this type of audience?
First, because now the segmentation of your target audience will become a faster and more concrete process. Thanks to this, you will be able to know where you have to invest a good part of your budget for payment campaigns. You can work this out by manually changing the ad bids or creating a specific campaign with your own budget for your new combined audiences.
Combined audiences in Google Ads will allow account managers to design audience-centric structures.  The segmentations that will allow these new audiences will expand the scope of the campaign without wasting the budget on incorrect users.
The exposure of various ads will also be limited to users who meet enough parameters. As Google continues to apply more advanced audience targeting options, buyer persona will become more specific. This leads to the increased importance of combined audiences for SEM campaigns.
Thus, keyword-focused campaigns could lead to more audience-focused structures. Data on how well or poorly these audiences are working are currently very scarce.
The test with the greatest impact was carried out by digital marketing expert Steven Johns in November 2019. In it, the conversion ratio increased from 6% (using only purchase intention) to 20% (combination of purchase intention, excluded audience and user demographics).
How to create combined audiences in Google Ads
To have your own combined audience, you just have to follow the procedure shown below:
Access Google Ads.

In the menu on the left, you have to go to Audiences and select All Audiences.

In New Audience, click on the Combined Audience option.

Title the new audience and fill in the description section.

Set the inclusion parameters for the new audience. For example, " 

young people between the ages of 25 and 30 who are fans of classic cinema living in Barcelona

 ."

Google Ads also provides the option to exclude certain profiles. For example, " 

delete current customer database

 ".
For Google privacy reasons, combined audiences must have at least 1,000 components . The tool will immediately pause audiences that do not reach this minimum figure. If you can't see the estimated size of the audience, hover over the name to see that information.
Include and exclude audiences, step by step
Both for adding and removing audiences, the method is quick and intuitive. If you want to add, the path is as follows:
Go to the Include section.

Under Own Audiences, click the Add option.

Use the filter to select the list, or lists, that interest you.

With the list selected, click on Apply.

Tap Add Group if you want to limit the audience with a separate set of audiences.

Once this is done, select Save.
The way to exclude combined audiences in Google Ads is just as simple and convenient as above:
Enter the Exclude section.

Under Own Audiences, select the Add check box to begin excluding.

Use the filter to better narrow the results and select the lists you want.

Choose the ones you want to remove and click Apply.

When you're done, select Save.
It is essential to keep in mind that it must be saved whenever changes are made to audiences. Likewise, the modifications do not apply immediately, since you will have to wait about four hours to start working with your new audiences.
Monitor all your tests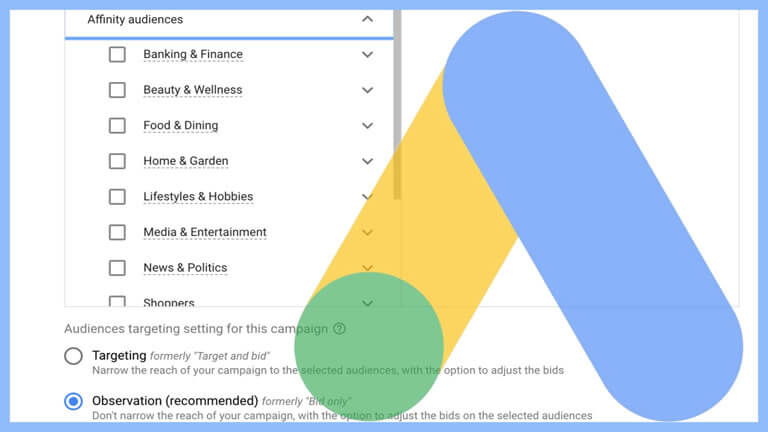 With combined audiences already created,  the easiest way to check their effectiveness is to activate the Observation option. Essentially it is a mode of data collection in which the scope of a campaign is not limited. And it also makes it possible to collect metrics for an audience.
To apply the new combined audiences to your search campaign, go to the Audiences tab. There, make a simple copy / paste with the new preferences. And of course, don't forget to click Apply and Save with every new move you make.
Make sure you have selected the observation mode. Otherwise, you run the risk of limiting the scope of the campaign .
Don't be afraid of experimentation
When a new trend bursts into the industry, you should try to test it in your marketing campaigns. Play with it, investigate all its characteristics, carry out tests … experimentation can be the key to your success.
The types of tests that enable combined audiences in Google Ads are numerous and diverse . You can try with more or less specific audiences, alter the message and even include different exclusion factors. Do not stop rehearsing until you get the audiences that best suit your goals.
When you have them ready, establish the routine of checking them periodically. In this way, you will be able to obtain increasingly satisfactory results with the combined audiences of Google Ads.
Get the most out of your combined audiences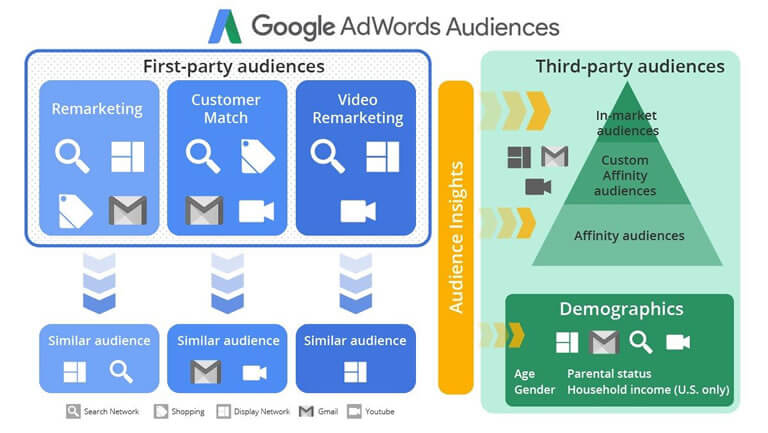 Combined audiences in Google Ads can be exploited in virtually infinite ways. Here are several tips to keep optimizing yours:
Do a complete analysis of your audience

 . Before making decisions that you will only regret later, study your users well. Extract as much information as possible and put the magnifying glass on the most relevant parameters for you.

Be sure to inspect the lists and the hearings

 . A slight oversight in monitoring your audiences can leave you without cookies due to an error in the collection of information. Follow-up must be routine, always keeping an eye on possible modifications. Everything can be easily checked from the shared Google Adwords and Bing libraries.

Increase and decrease the amount of your bids

 . Change 

investment strategies

 based on results. Remember that you can do it manually with bid modifiers or with automated bids. With this option, for example, it is the tool itself that determines in each bid which modifier is applied.

Extends its duration

 . The system has the ability to calculate the age of a user within a specific list. That is, it is no longer necessary to make numerous lists with different durations. Setting the maximum duration (540 days) will increase the volume of the audiences and, consequently, their potential to achieve conversions.

Don't go over the specification

 . It is not advisable to design too specific combined audiences that later cannot be used because they are too small. Remember that for an audience to function, it must have at least 1,000 users.
Focus search and where to apply audiences
Once you've compiled enough data, you'll better understand which combined audiences have the highest correlation with conversion .
At this point, the range of usage options is wide and interesting. You have the possibility to reach combined audiences through the Google Display Network, YouTube or Gmail. Be sure to check performance frequently, as users can perform conversions differently between ad networks.
Combined audiences in Google Ads have great potential for the B2B industry. They have been shown to decrease CPA (Cost Per Action) and to dramatically increase CTR (Click-Through Rate). By segmenting user groups across combined audiences, companies can expand their portfolio of leads.
Google Adwords is a valuable tool to attract clients, but its management can be complex for some users.