Advertising for free on Google Shopping is the most attractive advertising option for your business. If you still wonder why, remember that Google is the most powerful search engine in the world.
Google Shopping is growing at an alarming rate. Representing 55% of Google search ad clicks in the US In the US, Google Shopping is a great source of traffic today. Which ultimately increases the earning potential for online businesses.
The reason? The omnipresence of Google helps buyers get results geared towards personalized queries. When the product appears at the top of the results pages of the Google Shopping search engine, it will send the buyer the product of interest.
Also, it doesn't matter if you are a new company or a renowned brand, your product will appear in the buyer search query. Even if your brand is not known. Are you still thinking about it?
Here you have an essential guide to Google Shopping, an essential tool for you to carry out your strategy and advertise for free on Google.
What is Google Shopping?
Google Shopping, formerly Google Product Search, Google Products and Froogle, is a Google service invented by Craig Nevill-Manning that allows users to search for products on online sales websites and compare prices between different providers.
Google Shopping, as an integrated part of the company's search engine, has been around for almost two decades. In that time, it grew as an alternative to standard e-commerce giants like Amazon and the websites of traditional retailers like Best Buy and Walmart.
Since when is Google Shopping free
Advertising free on Google Shopping has been possible since April 21. Bill Ready reported that due to the pandemic, increases in demand for products through the app had increased.
Therefore, "for sellers, this change means a free showcase for the millions of people who come to Google every day when they shop . " While for buyers it opens the possibility of "seeing more products from more stores" .
On the other hand, this change is accompanied by a collaboration with Paypal, which according to Google will help more merchants to join the platform quickly.
In addition, they will also continue to have companies such as Shopify, WooCommerce or BigCommerce to ensure that the companies that work with them can quickly move to include their products also in Google Shopping.
In short, Google is trying to organize all the information in the world and a very important (and highly commercial) part is the products.
How is it possible to advertise for free on Google Shopping?
If you don't want to miss out on any of the benefits of free advertising on Google Shopping, here are the best tips to do it effectively:
1.- Create Your Google Shopping Account or open your Google Merchant Center
The first step you must take to be able to advertise on Google Shopping is to open your Google Merchant Center . This is where your Google Shopping feed data is listed. At www.google.com/merchants you can open your Google Merchant Center.
Follow the configuration steps that are indicated. These include basic company information, review of terms and conditions, and website verification.
2.- Configuration of your taxes and define shipping rules
Your next step is to configure your tax and shipping rules, so that your product can be advertised for free on Google Shopping. Defining this is essential to be able to launch your ads.
To do this, you need to go to the 'general settings' and enter your tax rates. Only if you are a US seller. By entering the states you're trading in, Google will do the rest.
3.- Linking your Google Ads account
The next thing you will have to do is link your Google Ads account to your Merchant Center account so that you can run your first campaign. You can link these accounts through your Merchant Center dashboard by clicking 'Google Ads' from settings.
You'll need to make sure that both platforms have the same email address with administrator access and that your Google Ads ID is ready to link accounts.
Note: Once you know your router login using IP, you can easily access your … Connect to your router; Find your router's IP address
4.- Configure your product feed
To configure your product feed you can manually compile it using Excel. If you are using other platforms, or other applications, plugins or extensions, you can automatically link the product feeds in each one.
5.- Pro-Tip
Perform an audit to ensure that your store's back-end product information is well structured. This means that each product contains its descriptions with keywords , structured titles and good images before importing them from its feeds. You are now ready to run your first Google Shopping campaign.
Is it profitable to advertise for free on Google shopping?
Taking into account that it is free from April, how can it not be? Also, by now you should have understood the importance of Google Shopping.
You can list and promote your products on the most popular search service. Ie Google.
You can also cross-promote with relevant search queries on Google's home pages. What more could you ask for?
To promote your products, you need to create Google Shopping campaigns (also known as product listing ads, PLA, or Google Shopping ads).
Purchases tab is only 10% of total click volume
While Shopping Tab functionality is superior to SERP results, the vast majority of product clicks occur on the search page.
It goes without saying that this is due to the huge difference in traffic between the two parties which are completely different. Google is known for its decision to honor the user experience in Search . Advertising free on Google Shopping is no exception.
Create your campaign to advertise for free on Google Shopping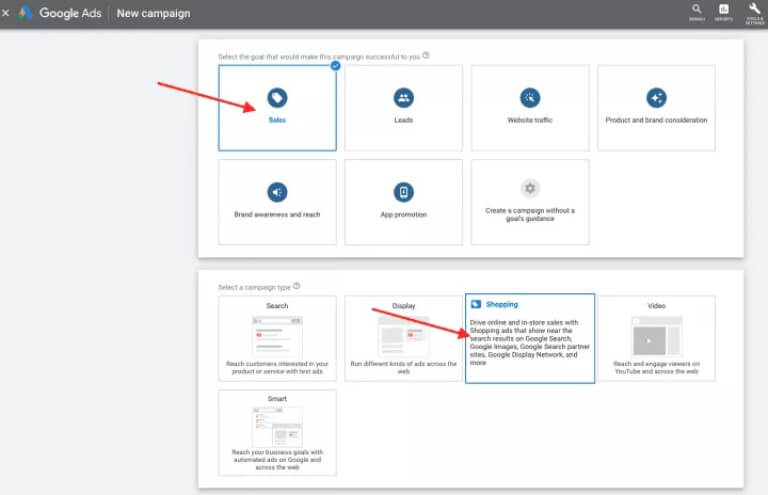 After creating a new Google Ads account or choosing a linked Google Ads account for which you have standard or administrator access. You can determine the campaign settings to advertise on Google Shopping. Where you can define:
A campaign name that you can modify later.
The country of sale of your campaign. These settings define the products in your Merchant Center inventory that are advertised in this campaign. Products will be filtered according to the destination country associated with them.
A maximum bid of cost per click . Bidding is a limit to the amount you are willing to pay for a click on your ads. You can edit the bid from your Google Ads account at any time after creating the campaign.
A daily budget. A budget is a limit to the average amount you are willing to pay per day for your ads for a specific campaign. You can edit this value in your Google Ads account at any time after creating the campaign.
Product group configuration for easy optimization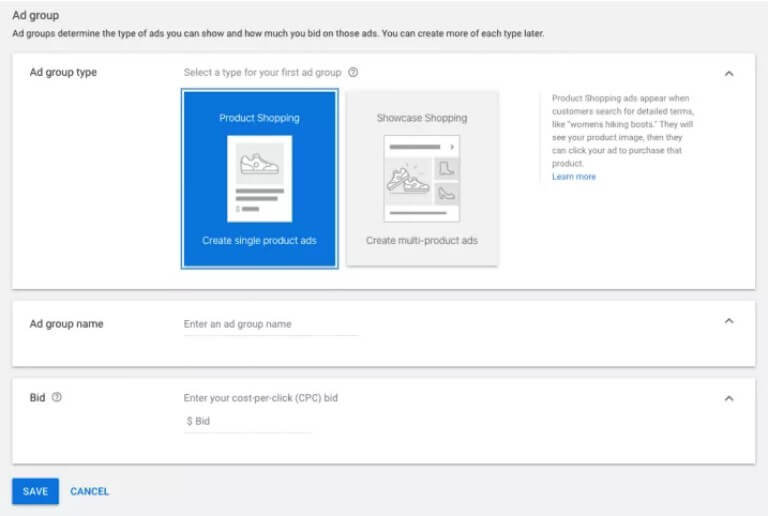 Just as you should with any Google Ads campaign, when creating your first campaign, you should start with well-structured and segmented groups. This will ensure that optimization, vital to the success of Google Ads, is easier to manage.
Unlike ads in SERPs, advertising for free on Google Shopping only allows one group of ads per campaign . However, you can divide this ad group into product groups.
You can configure this by clicking on the name of your Google Shopping ad group. By doing this, you can then divide your products into different groups based on category, brand, product type, and custom labels.
A- Product groups category
Here you can divide your products by different categories. The problem here is that within a category there may be a wide range of very different products.
B.- Branded product groups
Another way to subdivide and group your products is by their brand. If you are selling a variety of products made by different brands , this category will then allow you to evaluate the metrics by brand.
C.- Product groups by type
This subgroup of the Google Shopping ad group allows products to be grouped according to their type. This is the best way to group and segment your products, since it is based on the taxonomy of your site and it will be much easier to optimize.
D.- Groups of products with personalized labels
You can subdivide your products based on your labels such as 'Most Popular', 'Workout Clothes', 'Telecommuting', 'Back to School', 'Mother's Day Gifts' or any other group that you think would be worthwhile .
In Google Shopping you get up to five personalized levels  that you can choose from. It is a great way to group seasonal products so you can make quick adjustments to the offer.
It is essential that you successfully categorize each product. This will help make it easier for users to find you on Google Shopping .
Define the categories and plan the constant refreshment of your feed. The trick to make advertising on Google Shopping for free a success. As with Google Ads, it is the A / B test to find the best combination of information, image, title, offer and then monitor and adjust.