Youtube was the indisputable option to watch videos online, with a billion users and an innovative group of expanding creators. Success made it the second most used search engine behind Google. But that empire is threatened by Facebook, which aims to take streaming to another level . The Facebook Watch duel vs. Youtube is not new, but in 2020 it will be very interesting.
Trends indicate that users are posting more clips to Facebook and several companies are already restructuring their campaigns. It is expected that in 2021 82% of Internet traffic is video , good reason to spare no effort.
The one that receives the most visits will not cross the line first, but the one that most convinces consumers and large agencies .
Who has more income and visibility?
The contents and added value are very good, but what is going to decant Facebook Watch vs. Youtube is money. Currently, the first only gives $ 264 for every million visits, far from the $ 2,200 of the second. 
Videos monetized on the social network give the administrator around 15 cents per ad viewed. Even if 20 seconds of playback is reached. On YouTube, monetizing content is easier , since a creator with notoriety reaches the dollar per ad. Figure that can go more depending on visits.
On the other hand, YouTube videos can be added without problem in articles and on various Social Networks. Its recommendation algorithm, in addition, favors visits to videos related to what the user has just seen. The weight of the success of the videos on Facebook Watch falls exclusively on the news section.
Four rounds that will determine Facebook Watch vs. Youtube
To elucidate the winner of this fight for the crown of world streaming, they must be measured in 4 important aspects:
Total viewers glued to the screen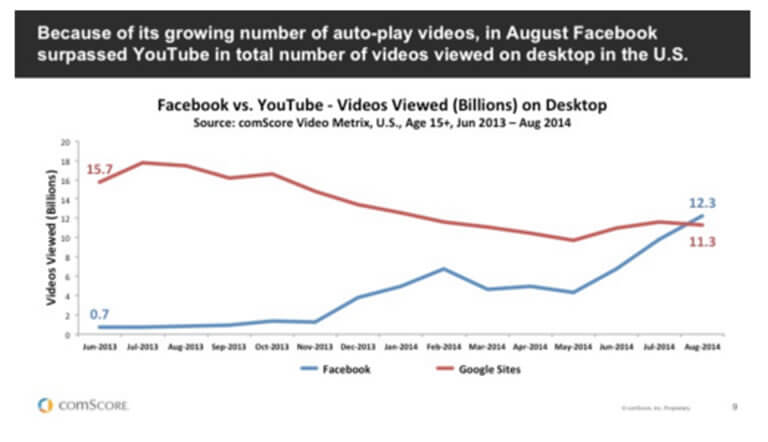 The winner for the audience size and number of visits is, at the moment, YouTube. The number of channels and videos hosted is greater, and with a billion active users, visits multiply.
Likewise, YouTube has established itself as the main video search engine. As a general rule, the user who wants to search for a specific clip opts for this platform. According to a study carried out by YouTube , 80% of its visits come from outside the USA.
That said, when it came to desktop viewing, Facebook managed to beat YouTube video views in 2014. That year it topped the 1 billion views mark. All analysts agree in pointing out this anniversary as the real beginning of the Facebook Watch vs. fight. Youtube.
Total playing time
There are two types of online video viewers: those who watch a few seconds and change and those who watch the content in its entirety. When it comes to retaining the user, YouTube rules .
Facebook videos are more successful when their duration does not exceed 20-40 seconds. On YouTube, however, that number goes up to 3 minutes. Also, keep in mind that an average mobile session for YouTube is 40 minutes. The statistic proves that the YouTube community is willing to pay attention to video content longer.
The replay analysis also does Facebook a disservice. With 3 seconds a clip is counted as seen, but the user has been able to quickly go over it without having internalized the message. YouTube views, by contrast, are calculated by percentage of video viewed. The system also purges "false views", such as those made from a single IP.
Potential to get conversions
It is not easy to know which of the two options is convenient if you want to get a monetary return on a video. For now, it seems that in this Facebook Watch vs. Youtube money is the friend of the second.
YouTube is a reference when it comes to introducing new products and helps consumers make their purchasing decisions. Google's preferential positioning and the tendency of users to use the platform play in their favor.
Still, Facebook doesn't rely solely on video for transactions . Yes, it also has Facebook Watch, but it also offers links and ads .
Engagement and shared content
In this section the forces are even. For YouTube, a reproduction requires a previous search, an intention to see the content. In Facebook's auto-play feature the view was not necessarily user-initiated .
On the other hand, segmentation is a great help for Facebook content . With its large database, it transmits the video to the audience that it really wants. YouTube, in this case, is based on cookies, but the result is not so accurate. Likewise, Facebook, being more social, favors the dissemination and discussion by users.
But YouTube has an ace up its sleeve: YouTubers . These 21st century stars attract a large young audience, following the adventures of their idols through streaming and other social channels.
What is the Facebook Watch roadmap?
Facebook's goal is not to create another video platform where individuals passively consume content. He believes that the future of entertainment is social and he aims to create a large community around video viewing . Socialization may be more important than Internet gurus believe in this Facebook Watch vs. Youtube.
Facebook intends to form a powerful union with creators and local companies to give the public specialized content . These creators have a considerable legion of fans, so the impact is immediate.
This geolocation-based strategy began in the United States, where the results exceeded initial expectations. Watch's confirmation was " The Players Tribune's House Guest ", a reinvention of the genre interviews with NBA players. The format is developed in the stars' house, where they show the casual side that is not seen on the court.
Given the success of this project, Facebook began to plan its expansion to other countries. He is currently in talks to implement his philosophy in France, Italy, Germany, the United Kingdom and Spain .
Facebook Watch bets on the Spanish market
Facebook Watch announced the association with 2btube with the intention of becoming strong in our country. The initial programming will consist of four weekly broadcast programs lasting 4 minutes . The biggest attraction will be the participation of well-known influencers who have a notorious Facebook fan base.
The contents will have four recognized faces for the young national public: Jorge Cremades, La Pelo, Martina Valeria de Antioquía and Academia Play.
The programming will be varied and focused on the tastes of the so-called millennial generation . With humor as a base element, viewers will be able to see celebrities cook, learn about history or entertain themselves with contests.
Facebook launches for music videos
The Facebook Watch vs. Battle Youtube is also going to have its own soundtrack. Facebook intends to include music videos on its platform, and has reached agreements with major record labels in recent times . Universal Music Group, Sony Music and Warner Music Group consider that YouTube does not pay them enough for their content.
Similarly, the management and protection of copyright by YouTube has also generated controversy. They consider that the platform has not been transparent on this issue and value Facebook's proposal on this issue. The first emissions were carried out in Thailand and India, but it is still early to know its potential global impact.
The Social Network also plays with the trump card of the increase in users viewing videos through its platform. In 2018 the figure reached 400 million , commendable data, but still far from the 1.9 billion that YouTube has. In addition, its catalog of music channels that can be viewed without registration is still far superior.
Facebook Watch vs. Youtube: the big decision
Whenever a new platform bursts into force, you have to question whether it is something serious or another passing fad. Facebook is still an effective marketing channel, and live streaming is undoubtedly a powerful format. But sometimes, the combination of two forces does not guarantee anything .
Each brand is unique, as is its way of communicating with its audience. If the goal is to increase ROI, you need to analyze both platforms until you find the right one. Also, always keep an eye on the updates that appear. A small piece of information can cause you to be forced to change channels.
In the end, administrators who design campaigns, both national and global, will have to ask themselves the following this 2020: How to succeed with large audiences? The answer seems to remain YouTube. Do the actions and comments have more value for the campaign? then the chosen one will be Facebook Watch.